AIGNEP Series 57000 | The 57.000 serie is oriented to the "Heavy Duty" market.
Description
This full metal solution offers robust and high performances. Mainly used in environments with strong vibrations,
abrasions and welding sparks.

Main advantages
- Quick connection and disconnection
- Full Flow and Vacuum resistant tank to special shaped seals
- 3 threads available, BSPP, BSPT (universal short) & Metric
- Robust and Resistant
- Large range to satisfy extreme applications
- EPDM (-40 °C) version on demand
- Silicon Free
Applications

- Robotics
- Automotive e Welding
- Heavy Industry, Railways
- Compressed air Circuit
- Cooling water
- Vacuum
- Glycol with EPDM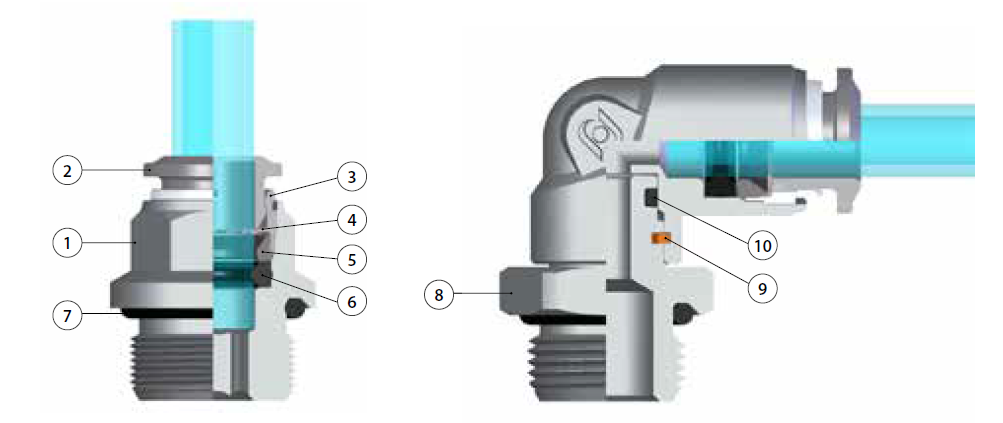 Component Parts and Materials

1. Nickel-plated brass Body
2. Nickel-plated brass Collet
3. Nickel-plated brass Capsule
4. Steel AISI 301 Clamping washer
5. Technopolymeric positioning ring
6. NBR Molded seal (if requested EPDM)
7. NBR Thread packing (if requested EPDM)
8. Base Threaded Nickel Plated Brass
9. Seeger
10. NBR seal (if requested EPDM)
Connection Tubes
Plastic tubes : PA6, PA11, PA12, Polyethylene, *Polyurethane, PTFE, FEP.
*For Polyurethane hoses it is required a minimum hardness of 98 shore.
Threads
"UNIVERSAL SHORT" Tapered thread.
Tapered gas in conformity with ISO7.1, BS 21, DIN 2999.
Parallel gas in conformity with ISO 228 Class A.
Metric in conformity with ISO R/262.

"UNIVERSAL SHORT"
The "UNIVERSAL SHORT" taper thread has been designed to offer the following advantages to the users:
• reduced overall lenght;
• smaller hex dimensions compared to the parallel threads;
• to allow the assembly with different female threads both taper as well as parallel.
Downloads : Catalog Series 57000