The externally piloted diaphragm valve type 2103 consists of a pneumatically operated piston actuator, a diaphragm and a 2-way valve housing made of cast stainless steel. The high quality actuator with a stainless steel cover is designed for usage in hygienic or aggressive environments.The flow optimised and zero dead volume valve body makes high flow rates possible and a variety of applications to be realised. The design enables the easy integration of automation modules whether they are electrical/optical position feedback, pneumatic control units, an integrated fieldbus interface or even an explosion proof device versions. The fully integrated system has a compact and smooth design, integrated pneumatic lines, IP65/67, NEMA Type 4X protection class and superior chemical resistance.

Hermetical separation of fluids from the operating mechanism by diaphragm

Quality certifications FDA
*For selecting the correct product please refer to the technical data, images and notes for proper use according to the data sheet.
Materials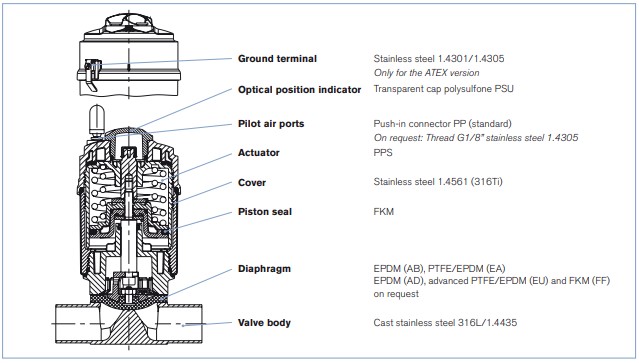 TYPE 2103 : Can be combined with
ต้องการ : Data Sheet สินค้า กรุณา แอดไลน์ @flutech แล้วแจ้งรุ่นที่ต้องการ