Bürkert's inductive conductivity meter Type 8228 is designed for usage under harsh conditions in many industrial processes for measuring in concentrated liquids like acids, caustics or salt-solutions over a wide measuring range. Applications like cooling water monitoring (i.e. dilution control), industrial water treatment or preparation and identification of cleaning liquids for example in CIP processes. The device is available in two models: - The first is the standard version with a G 2" process connection to be mount in Type S020 fitting - The second is the CIP version with a Clamp 2" process connection according to ASME BPE (clamp 1.5" on request).

Perfect for concentrated liquids and wide conductivity range

Pre-parameterized versions available for direct start-up

Integral device for direct connection to PLC

Simulation of process values for diagnostics

Sensor available in PP, PVDF or PEEK
*For selecting the correct product please refer to the technical data, images and notes for proper use according to the data sheet.
Materialangaben view type 8228
Standardausführungz
Nr.
Element
Material
1
Cover
PC
2
Seal
Silicone
3
Housing (top)
PPS
4
Seals
EPDM
5
Nut
PC or PPA (with PEEK sensor holder)
6
Sensor holder
PP, PVDF or PEEK
7
Seal
FKM (standard) or EPDM (option)
8
Housing (base)
PPS
9
Housing (body)
Stainless steel 316L
10
Fixed connector holder
Stainless steel 316L
11
M12 fixed connectors
Brass nickel plated
12
Screws
Stainless steel
CIP version
No.
Element
Material
1
Cover
PC
2
Seal
Silicone
3
Housing (top)
PPS
4
Seals
EPDM
5
Process connection (clamp)
Stainless steel 316L
6
Sensor holder
PEEK and stainless steel 316L (standard)
or PVDF and stainless steel 316L (on
request)
7
Seal
EPDM (standard) or FKM (on request)
8
Housing (base)
PPS
9
Housing (body)
Stainless steel 316L
10
Fixed connector holder
Stainless steel 316L
11
M12 fixed connectors
Brass nickel plated
12
Screws
Stainless steel
Dimensions Burkert Type 8228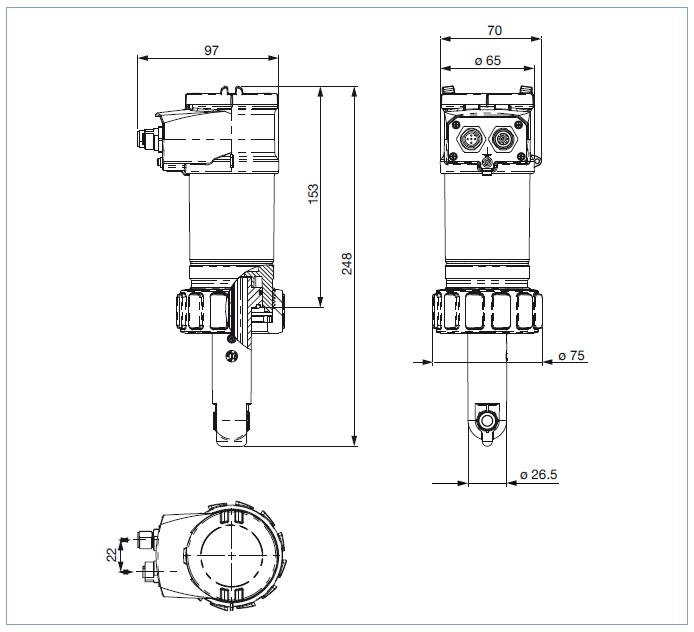 TYPE 8228 : Can be combined with
ต้องการ : Data Sheet สินค้า กรุณา แอดไลน์ @flutech แล้วแจ้งรุ่นที่ต้องการ