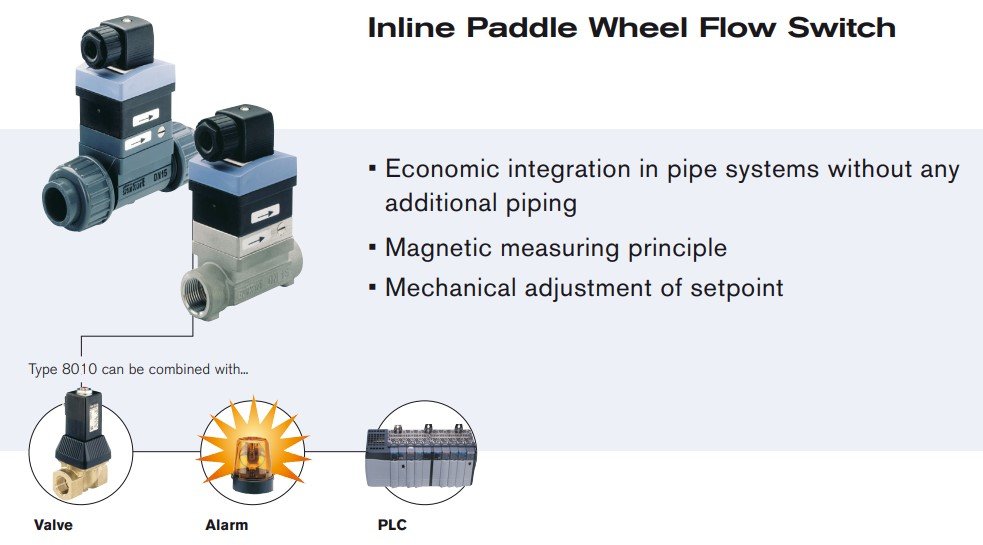 BURKERT TYPE 8010 | Inline Paddle Wheel Flow Switch
Data sheet Downloads :

The Inline flow sensor/switch Type 8010 is specially designed for use in pure and water resembling fluids, free from air bubbles and magnetizable particles, to monitor minimum/maximum values of flow.
The sensor/switch is made up of a sensor fitting (Type S010) and an electronic module (TypeSE10), quickly and easily connected together by a Quarter-Turn.
The 8010, which is uni-directional, should be mounted in respect of the arrow that indicates the flow direction. The device indicates the presence of a flow in the pipe by switching the Reed contact contained in the electronic module. The switching points min./max. for rising and falling velocities can be set with a screw within a defined range.
The SE10 electronic module is available in two version :
- Normally open (NO): The flow switches on the contact.
- Normally closed (NC): The flow switches off the contact.

These S010 sensor fittings are available in two versions :
- with a short blade "Range 1" fitted for the fittings DN15...DN40.
- with a long blade "Range 2" fitted for the fittings DN32...DN50.