2/2- and 3/2-way stainless steel ball valve used to shut off and distributing medium flows. The ball valves can be connected via the mechanical interface to ISO 5211 with a pneumatic (for example, Type 2051 or 2052) or electrical rotary actuator (eg, Types 3003, 3004 or 3005).

High flow rate

High medium pressure

Long life

ISO 5211 Top flange
*For selecting the correct product please refer to the technical data, images and notes for proper use according to the data sheet.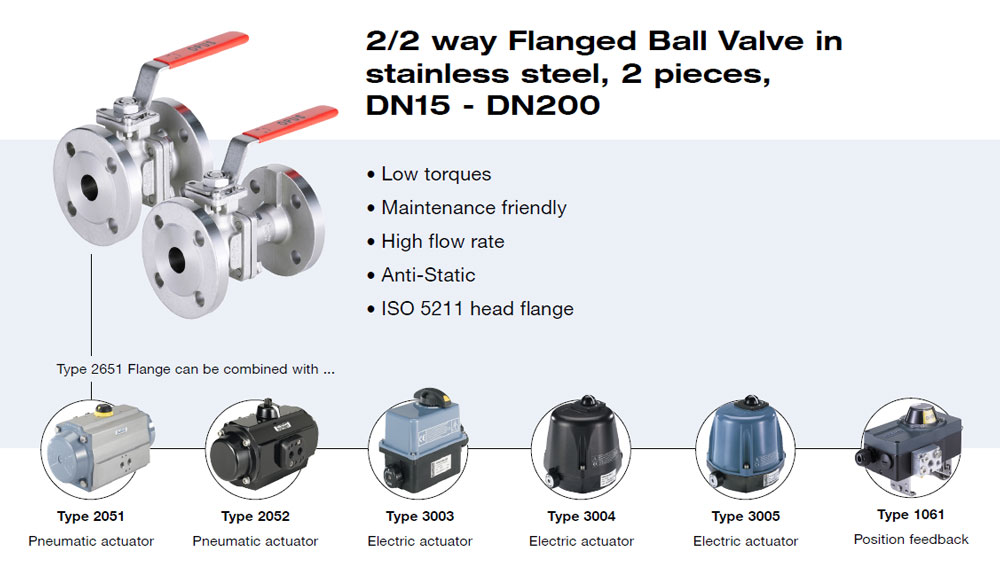 Materials
DN15-DN100
DN125-DN200
Pos
BOM
Qty
Material
1
Body I
1
1.4408
2
Body II (DN15-DN100), End cap (DN125-DN200)
1
1.4408
3
Ball
1
1.4401
4
Seat
2
PTFE reinforced
5
Body seal
1
PTFE
6
Stem
1
1.4401
7
Bearing
1
PTFE reinforced
8
Stem packing
1 Set
PTFE / PTFE conductive
9
Thrust washer
1
1.4401
10
Spring
2
1.4310
11
Stem nut
1
A2-70
12
Lock washer
1
1.4301
13
Hex bolt
A4-70 (DN15-DN100), A2-70 (DN125-DN200)
14
Anti-static-ball
1
1.4401
15
Manual lever
1
1.4301 (with plastic cover) (DN15-DN100), 14308 (DN125-DN200)
16
Stop plate
1
1.4308
Can be combined with :
ต้องการ : Data Sheet สินค้า กรุณา แอดไลน์ @flutech แล้วแจ้งรุ่นที่ต้องการ