Mechanically operated valves
They're robust, they have long working-lives and they come in a broad range of dimensions and models – AIRTEC's mechanical and manually operated valves are known for their quality and are used in all sorts of industries. Variations of our standard offerings include our stainless-steel model and our special AIRNOX-coated model. It's features like these that make AIRTEC components the top performers in extreme production environments.
Series 84-4F - manually operated valves foot pedal operated 5/2-way, G1/4
Technical details

Connection
G1/4
Nominal size (mm)
9
Temperature range
0°C ... +60°C
Medium
Filtered, oil-free and dried compressed air according to ISO 8573-1:2010, Class 7:2:4, instrument air, free of aggressive additives. Alternatively the pressure dew point must be at least 10°C below lowest occurring ambient temperature.
Materials
Body: Al (anodized), seals: NBR , inner parts: Al, steel
Foot pedal operated spool valve.
5/2-way-Valves

84-4FF-511-14-H 5/2-way, pedal, mechanical spring return
84-4FR-520-14-H 5/2-way, two positions, pedal, detent
Technical data



Model-no.:
84-4FF-511-14-H
84-4FR-520-14-H
Operating pressure (bar)
0 ... 8
0 ... 8
Flow rate (Nl/min)
530
530
Weight (kg)
0.900
0.900
Dimensions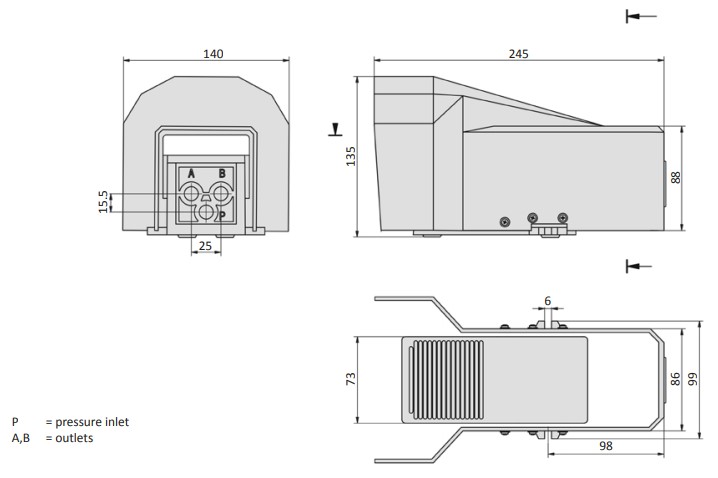 ต้องการ : Data Sheet สินค้า กรุณา แอดไลน์ @flutech แล้วแจ้งรุ่นที่ต้องการ