Mechanically operated valves
They're robust, they have long working-lives and they come in a broad range of dimensions and models – AIRTEC's mechanical and manually operated valves are known for their quality and are used in all sorts of industries. Variations of our standard offerings include our stainless-steel model and our special AIRNOX-coated model. It's features like these that make AIRTEC components the top performers in extreme production environments.
AIRTEC Series HF and HR | manually operated valves hand lever operated 3/2-way, 5/2-way and 5/3-way, G1/8, G1/4 and G1/2
Technical details

Temperature range
-10°C ... +70°C
Medium
Filtered, oil-free and dried compressed air according to ISO
8573-1:2010, Class 7:2:4, instrument air, free of aggressive
additives. Alternatively the pressure dew point must be at
least 10°C below lowest occurring ambient temperature.
Materials
Body: Al (anodized), seals: NBR and POM, inner parts: Al,
stainless steel and brass
Valves in accordance with 2014/34/EU (ATEX) available. (Chapter 13)
Hand lever operated spool valve.
3/2-way-Valves

HF-xx-310 3/2-way, hand lever, mechanical spring return
HR-xx-320 3/2-way, two positions, hand lever, detent

Please complete:

xx = 18 for G1/8
xx = 14 for G1/4
xx = 12 for G1/2

5/3-way-Valves
HF-xx-510 5/2-way, hand lever, mechanical spring return
HF-xx-530 5/3-way, center position closed, hand lever, spring return
HF-xx-533 5/3-way, center position exhausted, hand lever, spring return
HR-xx-520 5/2-way, two positions, hand lever, detent
HR-xx-530 5/3-way, center position closed, hand lever, detent
HR-xx-533 5/3-way, center position exhausted, hand lever, detent
Technical data




Model-no.:

HF-18-310
HF-14-310
HF-12-310
HF-18-510
HF-14-510
HF-12-510
Connection
G1/8
G1/4
G1/2
G1/8
G1/4
G1/2
Nominal size (mm)
6
9
14
6
9
14
Flow rate (Nl/min)
750
1580
3300
750
1580
3300
Operating pressure (bar)
0 ... 12
0 ... 12
0 ... 12
0 ... 12
0 ... 12
0 ... 12
Actuating force at 6 bar (N)
13
20
32
13
20
32
Weight (kg)
0.266
0.48
1.21
0.31
0.56
1.43

Model-no.:

HF-18-530
HF-14-530
HF-12-530
HF-18-533
HF-14-533
HF-12-533
Connection
G1/8
G1/4
G1/2
G1/8
G1/4
G1/2
Nominal size (mm)
6
9
14
6
9
14
Flow rate (Nl/min)
780
1800
3300
780
1800
3300
Operating pressure (bar)
0 ... 10
0 ... 12
0 ... 12
0 ... 10
0 ... 12
0 ... 12
Actuating force at 6 bar (N)
20
25
36
20
25
36
Weight (kg)
0.32
0.58
1.43
0.32
0.58
1.43
Model-no.:
HR-18-320
HR-14-320
HR-12-320
HR-18-520
HR-14-520
HR-12-520
Connection
G1/8
G1/4
G1/2
G1/8
G1/4
G1/2
Nominal size (mm)
6
9
14
6
9
14
Flow rate (Nl/min)
750
1580
3300
750
1580
3300
Operating pressure (bar)
0 ... 12
0 ... 12
0 ... 12
0 ... 12
0 ... 12
0 ... 12
Actuating force at 6 bar (N)
16
24
36
16
24
36
Weight (kg)
0.268
0.485
1.215
0.312
0.564
1.43
Dimensions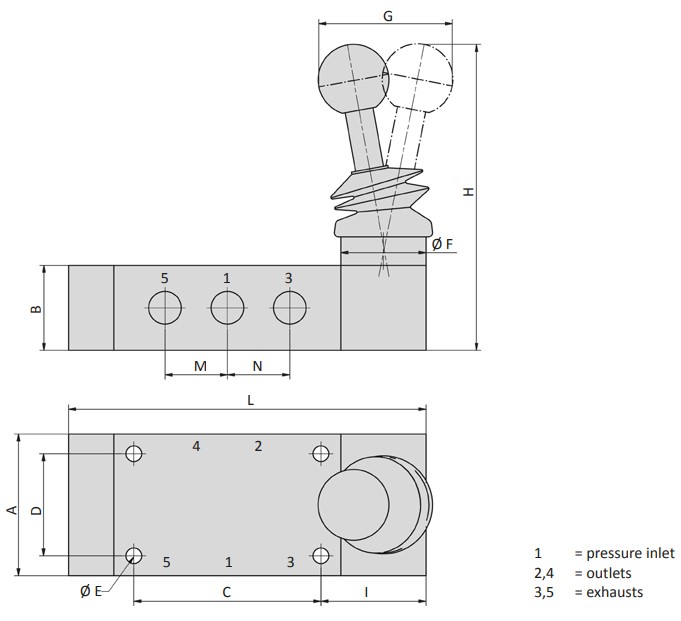 Model-no.:
A
B
C
D
Ø E
Ø F
G
H
I
L
M
N
HF-18-310
HR-18-320
40
25
34
30
4.5
25
36
88
31
87
-
18
HF-14-310
HR-14-320
50
30
44
36
5.5
30
46
112
37
104
-
22
HF-12-310
HR-12-320
70
40
70
50
6.5
40
64
148
51
148
-
36
HF-18-510
HR-18-520
40
25
52
30
4.5
25
36
88
31
105
18
18
HF-14-510
HR-14-520
50
30
66
36
5.5
30
46
112
37
126
22
22
HF-12-510
HR-12-520
70
40
106
50
6.5
40
64
148
51
187
36
38
HF-18-53x
HR-18-53x
40
25
52
30
4.5
25
45
88
31
105
18
18
HF-14-53x
HR-14-53x
50
30
66
36
5.5
30
53
112
37
126
22
22
HF-12-53x
HR-12-53x
70
40
106
50
6.5
40
64
148
51
193
36
36
ต้องการ : Data Sheet สินค้า กรุณา แอดไลน์ @flutech แล้วแจ้งรุ่นที่ต้องการ