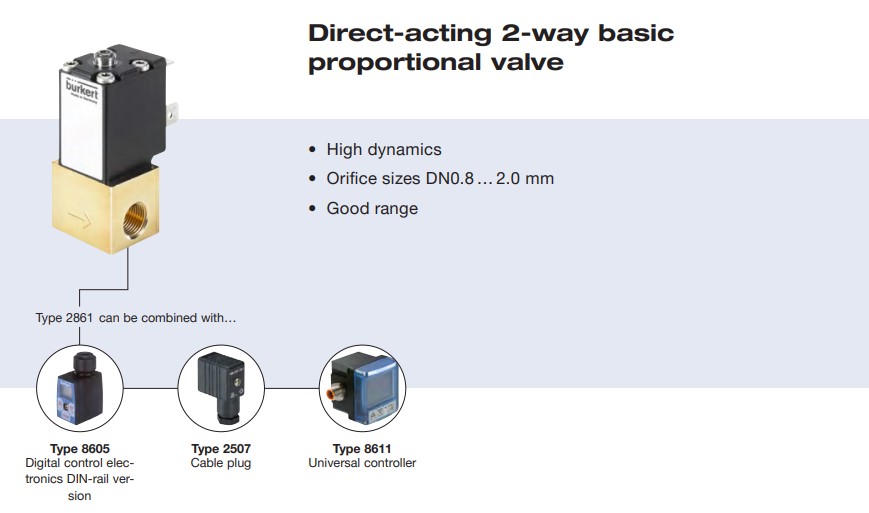 Proportional valve (PWM Valve) type 2836, 2861, 2863, 2865, 2871, 2873, 2875, 6024 ซึ่งใช้ร่วมกับ Type 8605 ซึ่งเป็นอิเลคโทรนิคคอนโทรลยูนิต ซึ่งทำหน้าที่ Convert สัญญาณ Analog เป็นสัญญาณ PWM
Type 2861 is an extremely compact solenoid control valve and is available with an orifice up to 2mm. It is based on the standard version of Type 2871. It is used as an actuator in closed control loops (pressure, flow, temperature, etc.). Compared with the standard version, the valve is essentially of simpler construction and assembly and testing procedures are optimized, easing high volume series production with shorter delivery times.

Circuit function A
| | |
| --- | --- |
| | 2/2 way direct-acting, solenoid proportional control valve |
Valve control takes place through the control electronics of Type 8605, which converts an analogue input signal into a PWM) (pulsewidth modulation) signal.

Valve control takes place through a PWM signal1). The duty cycle of the PWM signal determines the coil current and hence the position of the plunger.
The Bürkert control electronics Type 8605 (see relevant datasheet) converts an analog signal to a reference value corresponding to the valve type PWM signal and provides additional functions such as temperature compensation (coil heating), ramp function and the adjustment of min. and max. duty cycle/coil current for the control range.
Dimensions [mm]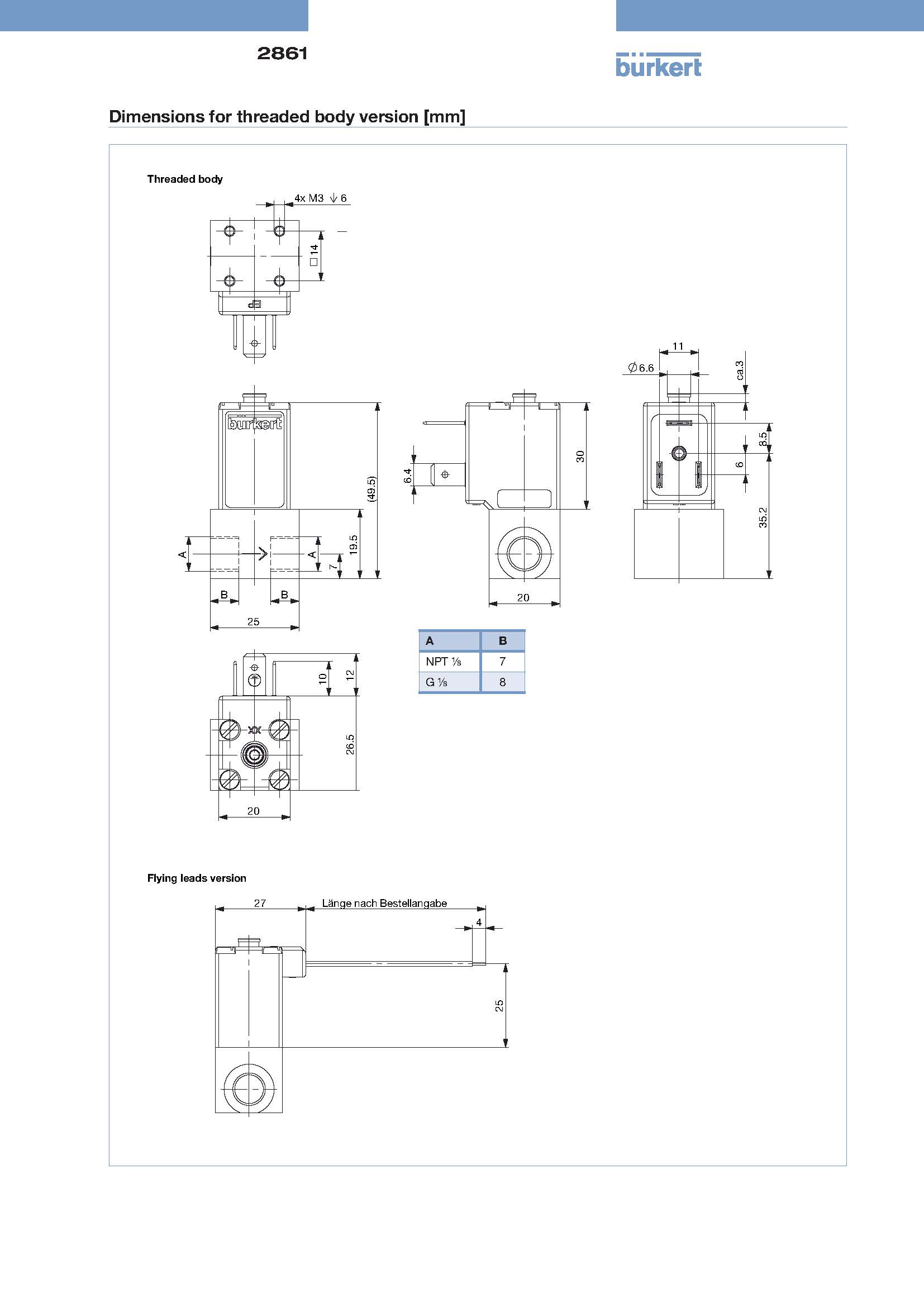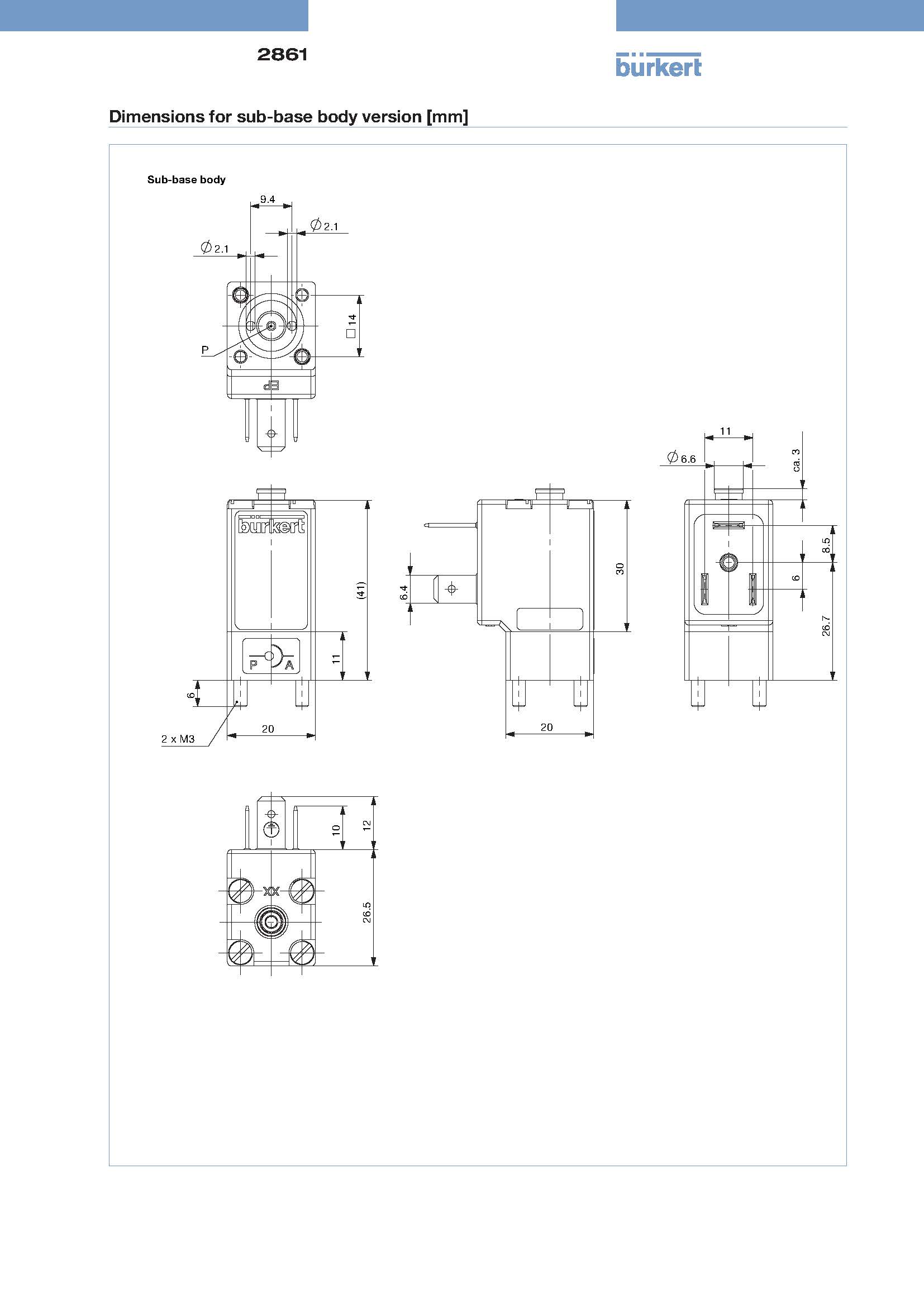 Characteristics of a solenoid control valve
Advice for valve sizing
Determination of the kV value

Type 2861 Can be combined with
| | |
| --- | --- |
| | Type 8605 - PWM control electronics for electromagnetic... |
| | Type 2507 - Cable plug - industry standard - connector... |
| | Type 8611 - eCONTROL - Universal controller |
*For selecting the correct product please refer to the technical data, images and notes for proper use according to the data sheet.
ต้องการ : Data Sheet สินค้า กรุณา แอดไลน์ @flutech แล้วแจ้งรุ่นที่ต้องการ