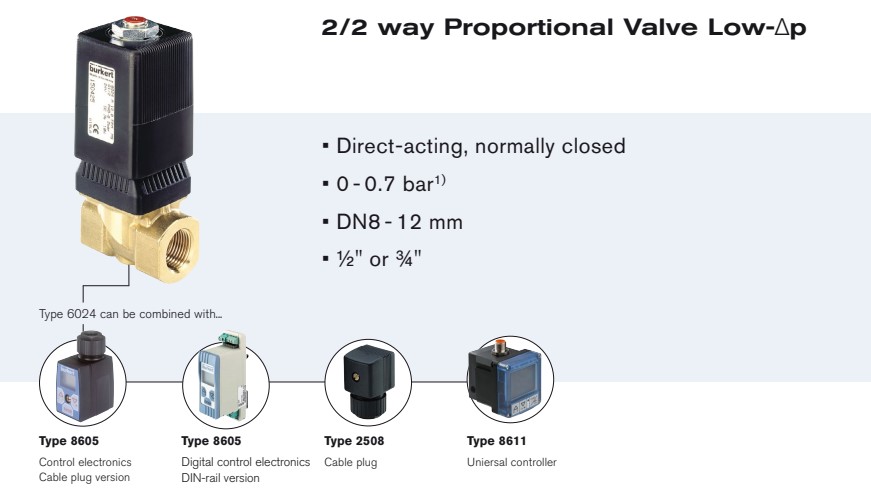 Proportional valve (PWM Valve) type 2836, 2861, 2863, 2865, 2871, 2873, 2875, 6024 ซึ่งใช้ร่วมกับ Type 8605 ซึ่งเป็นอิเลคโทรนิคคอนโทรลยูนิต ซึ่งทำหน้าที่ Convert สัญญาณ Analog เป็นสัญญาณ PWM
The direct-acting proportional valve Type 6024 works as an electromagnetically actuated control valve with relatively high flow rates at low operating pressures. The valve is normally closed.

For high flow rates with low inlet pressure

Direct-acting, normally close

Operating pressure 0 ... 0.7 bar

Orifice sizes 8 ... 12 mm

Port connection 1/2" and 3/4"
Circuit function A
| | |
| --- | --- |
| | 2/2 way direct-acting, solenoid proportional control valve |
It is controlled by Control Electronics Type 8605.
Further functional features of the Type 8605 electronic control unit:
Temperature compensation for coil heating by internal current regulation

Simple zero and span settings

Ramp function to dampen fast status changes
Characteristics of a solenoid control valve
Advice for valve sizing
Determination of the kV value

Dimensions [mm] - Burkert type 6024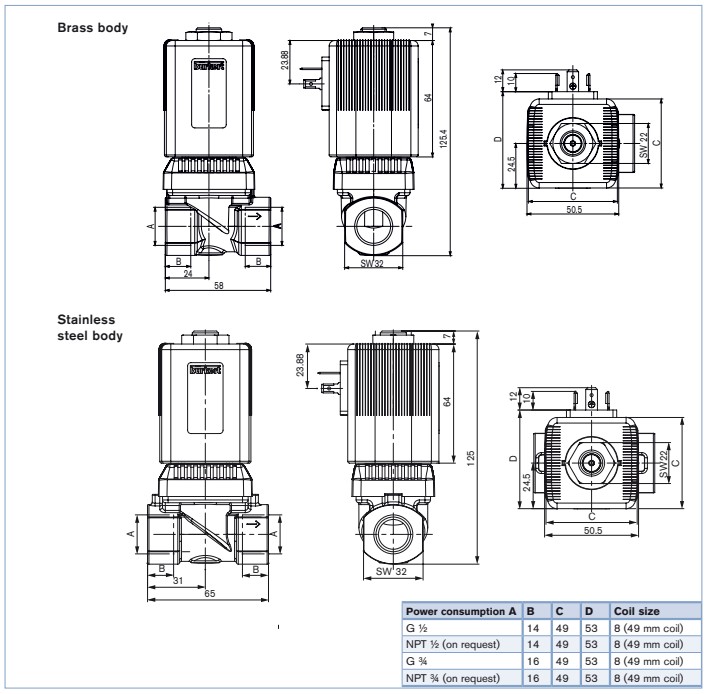 Type 6024 Can be combined with
*For selecting the correct product please refer to the technical data, images and notes for proper use according to the data sheet.
ต้องการ : Data Sheet สินค้า กรุณา แอดไลน์ @flutech แล้วแจ้งรุ่นที่ต้องการ