Piston rod cylinders | Series XL ISO 15552 double acting
From the small-and-compact to the-large and-powerful, AIRTEC offers an impressive choice of pneumatic cylinders. Short cylinders, compact cylinders, round cylinders and cylinders with aluminum profiles, as well as large cylinders up to 320mm in diameter – AIRTEC can deliver them all to your door as soon as you need them. An extensive range of accessories and attachments, including drive systems and pneumatic/hydraulic braking systems and clamping systems, round out the AIRTEC range in the field of piston-driven cylinders.

Together with our extensive range of valve technology, AIRTEC has the field of round cylinders and tie rods well and truly covered, too – stainless steel fittings crafted for special use are also available.
Double acting Al-profile cylinder with integrated sensor grooves. Also available in explosion proof design, in a low-temperature version (XLC), with ice remover (XLC), with dirt remover (XLD), in a high temperature (XLH).
Technical details
Operating pressure
1 ... 10 bar
Temperature range
-20°C ... +80°C ( XL, XLD, XLL )
( XLH: -10°C ... +150°C, XLC/ XLCD: -40°C ...+80°C )
Max. stroke
2800 mm
Medium
Filtered, oil-free and dried compressed air according to ISO
8573-1:2010, Class 7:2:4, instrument air, free of aggressive
additives. Alternatively the pressure dew point must be at
least 10°C below lowest occurring ambient temperature.
Materials
Cylinder tube : Al (anodized)
End caps : Al-die-cast (painted)
Piston rod : steel hard chrome plated (optional 1.4301)
Seals : PU, NBR (optional FKM)

Cylinders in accordance with 2014/34/EU (ATEX) available. (Chapter 13)
Double acting Al-profile cylinder with integrated sensor grooves, adjustable cushions and magnetic piston for proximity sensors.
The sensors can be installed directly into the sensor grooves of the Al-profile.
Standard stroke lengths in table below, additional lengths on request.

Versions
050, 054, 000, 004
double acting, adjustable cushioning,
with magnetic piston
450, 454, 400, 404
double acting, double end piston rod, adjustable cushioning, with magnetic piston
152, 102
double acting, adjustable cushioning
552, 502
double acting, double end piston rod, adjustable cushioning






Technical data
| | | | | | | | |
| --- | --- | --- | --- | --- | --- | --- | --- |
| Model-no.: | XL-032-... | XL-040-... | XL-050-... | XL-063-... | XL-080-... | XL-100-... | XL-125-... |
| Piston Ø (mm) | 32 | 40 | 50 | 63 | 80 | 100 | 125 |
| Force at 6 Extension | 434 | 678 | 1060 | 1682 | 2713 | 4239 | 6623 |
| bar (N) Retraction | 373 | 570 | 890 | 1513 | 2448 | 3974 | 6189 |
| Connection | G1/8 | G1/4 | G1/4 | G3/8 | G3/8 | G1/2 | G1/2 |
| Piston rod thread | M10 x 1.25 | M12 x 1.25 | M16 x 1.5 | M16 x 1.5 | M20 x 1.5 | M20 x 1.5 | M27 x 2 |
| Cushioning length (mm) | 27 | 29 | 32 | 32 | 32 | 32 | 42 |
Dimensions series XL
Series XL Mounting accessories
XLB-xxx-01 Foot mount

XLB-xxx-02 Flange mount

XLB-xxx-04 Clevis mount with bushing

XLB-xxx-05 Swivel mount

XLB-xxx-06 Swivel mount 90°

XLB-xxx-08 Clevis pin

XLB-xxx-09 Bearing block

XLB-xxx-10 Trunnion mount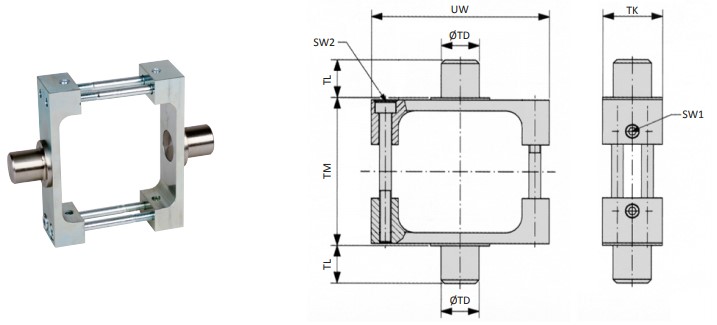 XLB-xxx-12 Swivel mount with spherical bearing

XLB-xxx-14 Clevis mount small with pin

RD-xx, FD-xxx Rod clevis

FK-xxx Flexible coupling

RO-xx, FO-xxx Rod eye

Content
Standard version
High temperature version
Position
Part
Quantity
Position
Part
Quantity
1
piston rod seal (PUR)
1*
1
piston rod seal (FKM) + circlip
1*
2
O-ring (NBR)
2
2
O-ring (FKM)
2
3
cushion seal (PUR)
2
3
cushion seal (FKM)
2
4
piston with magnet (NBR)
1
4
piston (FKM)
1
5
O-ring (NBR)
2
5
O-ring (FKM)
2
6
grease
1
6
grease
1
อ้างอิง : airtec.de

สอบถามข้อมูลเพิ่มเติม AIRTEC - Series XL ISO 15552 double acting

Line ID : @flutech FB เพจ : FLUTECH2 E-mail : sales@flutech.co.th
Tel : +66(0) 2384-6060 (Auto) ,+66(0) 2753-2955 (Auto) ,+66(8) 6369-5871 – 3
Fax :+66(0) 2384-5701